Legendary multi-platform sports host Dan Patrick entertains America in morning drive along with his sidekicks, "The Danettes." The Dan Patrick Show features the most extensive A-list interviews from the world of sports entertainment. The radio show features astute knowledge, a dry sense of humor and Patrick's unique perspective, as well as a style which provides a "comfort zone" for his co-hosts. Fans can also see The Dan Patrick Show live on TV each day on DirecTV and FOX Sports Net.
Dan Patrick is one of America's legendary sports journalists and a revered member of the national media industry. Dan Patrick has recreated his radio show over the last 3 years and is now distributed nationally on over 240 affiliate stations, is streamed live on http://www.danpatrick.com and the stream is repeated continuously 24/7.
Since August 3, 2009, the Dan Patrick Radio Show has been simulcast live on television on DIRECTV's The 101 Network. As of October 2010, Dan has simulcasted his television show on to the Fox Sports Network Platform which puts him in over 85 million homes in the United States.
Patrick can be seen on NBC's Football Night in America, was most recently part of the NBC Sports 2010 Winter Olympics broadcast team from Vancouver, and was a correspondent during the 2010 NHL Stanley Cup Playoffs.
Additionally, Patrick is a Senior Writer for Sports Illustrated and writes a weekly column for Sports Illustrated. He has also created his very own digital fan loyalty program called Dan Nation that has over 90,000 members and 2 daily e-newsletters.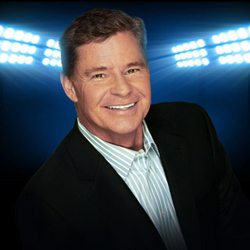 Mon-Fri | 10a-11a & 2p-3p